ColorCode running on KDE 3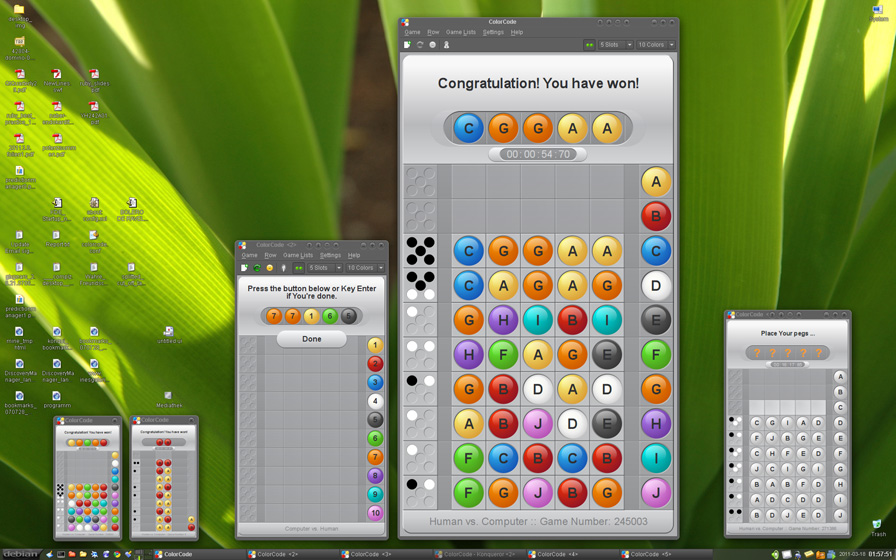 | | | |
| --- | --- | --- |
| ... and on KDE 4 | | ... and even without colors |
| | | |
| | | |
| --- | --- | --- |
| ColorCode on Windows, of course ;-) | | ... and in different game mode |
| | | |
| | | |
| --- | --- | --- |
| ... and yupp, still alive, on OS/2 | | ... and ColorCode goes mobile on Maemo |
| Thanks to Elbert Pol for this one. | | to keep up with the times :-D |
| | | |
... and obviously on a Mac too.
This image showing an older version is my only evidence for ColorCode running on MacOS

... now for sure ;-)
I've got a kind mail, informing me that ColorCode has been added to Softpedia's database of software programs for Mac OS.

There you'll find more recent screenshots than the one to the left.

And - for the cautious ones - they also granted ColorCode with the "100% FREE" Softpedia award.
"ColorCode" has been tested in the Softpedia labs using several industry-leading security solutions and found to be completely clean of adware/spyware components. We are impressed with the quality of your product and encourage you to keep these high standards in the future.
To assure our visitors that ColorCode is clean, we have granted it with the "100% FREE" Softpedia award. To let your users know about this certification, you may display this award on your website, on software boxes or inside your product.